Mental health issues are projected to be one of the world's biggest causes of ill health by 2030. In response, the Neuroscience, Psychology and Behaviour Theme is building a network of researchers to develop opportunities that cut across multiple disciplines and improve the linkage of biological mechanisms with social and environmental drivers of mental health and illness.
Collaboration and Engagement
Researchers from across 5 departments (Psychology, Pharmacology, Physiology, Development and Neuroscience, Zoology, Engineering) working in complementary areas linked to mental health met in September 2022 to discuss the variety of research ongoing in the School and identify new synergies between current research areas.
We are now working on building further connections with Cambridge collections, clinical colleagues and people with lived experience of mental health conditions with a view to develop a cross-disciplinary mental health network of expertise. Members of the School can find out more on the School Information Hub.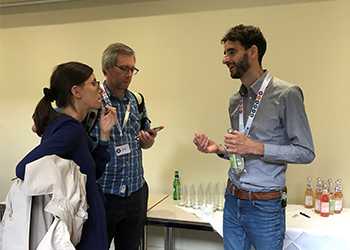 Mental health and illness across scales, species, and society workshop, Pitt Building, September 2022
Key Collaborators
Tristan Bekinschtein, Psychology
Riccardo Beltramo, Physiology, Development and Neuroscience
Jeff Dalley, Psychology
Pasco Fearon, Psychology
Tamsin Ford, Psychiatry
Jane Garrison, Psychology
Claire Hughes, Psychology
Mark Johnson, Psychology
Rebecca Kilner, Zoology 
Zoe Kourtzi, Psychology
Becky Lawson, Psychology
Work with us
We welcome opportunities to collaborate with industry partners, policy makers and academics. If you are interested in working with us, please contact Dr Abi Herrmann, Research Strategy Facilitator.