Molecular biology allows scientists to study biological phenomenon at the level of atoms, molecules and cells. Commonly used in health and disease research, scientists in Cambridge are harnessing modern biological techniques to transform our understanding of climate change and accelerate much needed solutions in this area.
Collaboration and Engagement
The potential of molecular biology for delivering innovative solutions to climate challenges remains untapped; this omission risks pushing the planetary ecosystems beyond their tipping points. A recent white paper, prepared in the context of COP26 and edited by Organisms, Evolution and Ecology Theme Leads Beverley Glover and Kiran Patil, outlines the enormous opportunities offered by molecular life sciences to contribute solutions to the climate crisis.
To build momentum and seed ideas for climate change research amongst molecular life scientists in Cambridge, the Organisms, Evolution and Ecology Theme organised an in-person workshop across different areas of climate change, supported by the climate initiative Cambridge Zero. Speakers spanned 7 Departments: Plant Sciences, MRC Toxicology, Pathology, Biochemistry, Chemistry, Zoology and Chemical Engineering and Biotechnology. We look forward to facilitating new innovations and collaborations on the topic of climate change. Members of the University can find out more on the School Information Hub.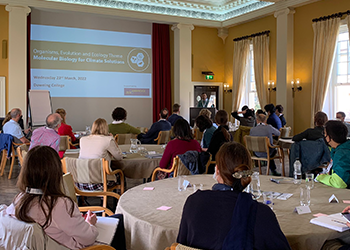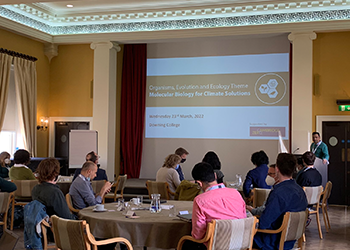 Molecular Biology for Climate Solutions workshop, Downing College, March 2022
Work with us
We welcome opportunities to collaborate with industry partners, policy makers and academics. If you are interested in working with us, please contact Dr Abi Herrmann, Research Strategy Facilitator.