All living organisms regenerate as part of everyday life to maintain tissue and organs, however more complex animals such as mammals and humans have limited capabilities. Researchers in Cambridge are working together to learn lessons across tissues, systems and scales to make human limb and organ regeneration possible.
Collaboration and Engagement
With the view to develop cross-disciplinary concepts focussed on fundamental questions in regenerative bioscience, the Reproduction, Development and Lifelong Health Research Theme organised a workshop bringing together scientists who work on tissue growth and regeneration from diverse perspectives to learn from each other and better understand how we can unlock regenerative potential across different tissues, scales and organisms. 
Speakers spanned 7 Departments: Cambridge Stem Cell Institute, Genetics, Gurdon Institute, Pharmacology, Plant Sciences, Sainsbury Laboratory and Zoology. The meeting comprised a series of short talks and included areas such as plant growth, human development, animal tissue regeneration and evolutionary perspectives. Members of the University can find out more on the School Information Hub.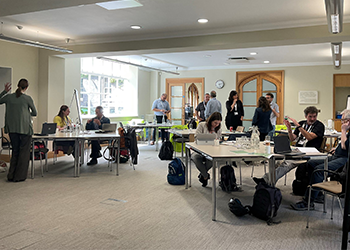 Complex tissue regeneration across scales and systems workshop, Pitt Building, May 2022
Work with us
We welcome opportunities to collaborate with industry partners, policy makers and academics. If you are interested in working with us, please contact Dr Abi Herrmann, Research Strategy Manager.