Visit to G's headquarters and lettuce propagation facility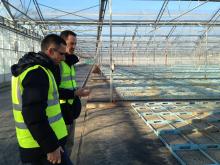 On a crisp clear wintry morning, I took Phil Wigge and Mariana Fazenda to meet Charlie Kisby, Product Director for leafy salads at G's. G's are a family-run business with a £400 million turnover, 5000 employees and full vertical integration – they raise the plants, farm them, process and pack them, and then market and sell them.  Charlie bridges between the farmer growing the lettuce and the marketing team selling it, ensuring that your iceberg lettuce reaches the shelves at the right time and in tip-top condition, and is interested in the latest innovations that can help in a tight margin business.  Phil Wigge's research into plant responses to temperature and interest in applications for transcriptomics can provide vital information for growers looking to improve scheduling of crops and estimates of shelf-life.
We visited the lettuce propagation centre at Second Willow and witnessed the machinery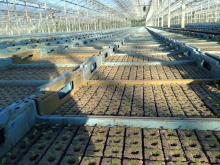 used to automate the process of sowing and germinating seeds and raising the plants until they are ready to be transplanted into the field.  A high level of automation is used to improve uniformity – the ultimate aim is for every single lettuce to grow in exactly the same way.  Phil was impressed by the scale of the operation and immediately started to think of potential applications for his research.  Together with Charlie, Phil is putting together a project for a summer student to start answering some of these questions and to provide some data to help write a joint research proposal.
More information about G's can be found here: http://www.gs-fresh.com/
Phil's research can be found here: http://www.wiggelab.org/
The Bioscience Impact team here: http://www.bio.cam.ac.uk/impact
And information on CambPlants here: http://www.cambplants.group.cam.ac.uk/about-us/team
Please contact us at biosciteam@admin.cam.ac.uk if you are interested in finding out how we can help you connect with industry and translate your research into impact.