In March 2023, the Biological Sciences Early PI Network invited a team of training specialists to come to Cambridge and deliver one of the prestigious EMBO Leadership Courses. As part of the School of Biological Sciences commitment to research culture and career support, we were delighted to champion this initiative and provide support funding to expand attendance and allow increased numbers of Group Leaders in the School to join the course.
Leadership, management and scientific skills are critical for a successful career in science. This course has been designed to meet the specific needs of researchers. A total of 18 early career Principal Investigators from Departments across the Schools of Biological Sciences and Clinical Medicine attended the 3-day leadership course. The programme aimed to develop the tools and techniques needed for individuals to successfully lead and manage their research groups through practical exercises, in the form of role-play and discussion groups, providing hands-on experience.
One of the EMBO training course hosts, Jeongmin Choi, Department of Plant Sciences and Crop Science Centre, said, "This was the first time that the School of Biological Sciences collectively hosted an EMBO Leadership Course in Cambridge to support early career PIs. It was a massive success in gaining practical skillsets and creating a supportive community. With this positive momentum, we will continue to organise more learning opportunities. I am very grateful for the support from the School, including the help of the finance manager, Del Hawtin, in the Department of Plant Sciences."
Another host of the event, Mekayla Storer, Wellcome-MRC Cambridge Stem Cell Institute, said, "This course helped me to identify and understand my personal style of leadership and allowed me to learn effective tools to foster the growth of my research team. It provided a fantastic opportunity to help deepen the relationships between new group leaders across the University of Cambridge and provide a collaborative sense of community".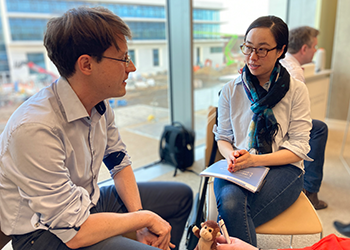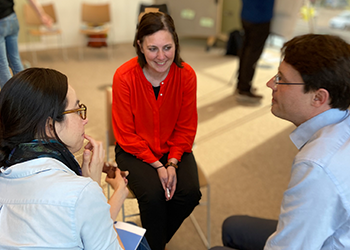 Alex Borodavka, from the Department of Biochemistry, and one of the Group Leaders who joined the course said, "This course has helped me consolidate my understanding of effective leadership and practice various scenarios that often arise in a research group. It was also a great opportunity to reflect on my role as a new group leader and make new valuable connections with my peers at the University of Cambridge".
Paula Bibby, Research Culture Facilitator in the School said,  "As part of the School of Biological Sciences Fellowship Framework, we were pleased to enable this training to take place in Cambridge and remove potential obstacles for those with caring responsibilities to attend while reducing the financial commitments for early career PIs who often have a tight budget. The course offered early PIs who often work in silos in individual departments great networking opportunities while bringing out the best in individuals to deliver world-class research."
The University also provide new Group Leaders the opportunity to undertake accessible training on leadership essentials and management responsibilities, and develop their leadership capabilities through effective leadership and leading their team through change.