Cereals 2016 was an eye-opening experience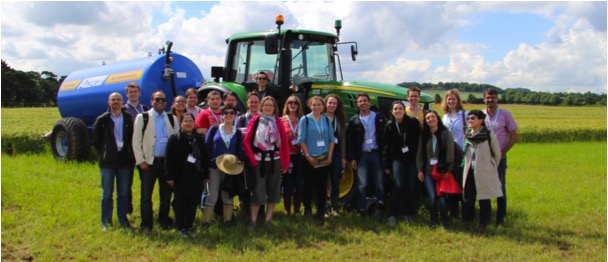 On June 15th, a group from Cambridge attended Cereals 2016, the arable industry's leading technical event. With over 25,000 farmers, agronomists and industry professionals present, the hundreds of stands covered everything from the latest crop breeding research and fertiliser production to developments in harvest technology.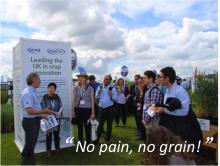 Our group included representatives from Cambridge Global Food Security (see Jacqueline's Cereals write-up here), CambPlants, the SLCU, the Departments of Plant Sciences, Engineering, IfM, and Geography, CINTRIN and NIAB, highlighting the diverse range of interests and opportunities at the conference to make links with industry. This was an excellent opportunity for our researchers to put their work into context and perspective, and we started the day with a tour of the NIAB stand where Bill Clark and Phil Howell presented their wheat pre-breeding research as an introduction to the numerous crop plots on display.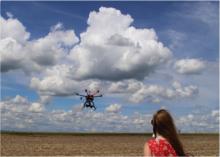 Of particular note at Cereals this year was the new "Drone Zone". Here, it was demonstrated how small drones can be used to monitor fields and provide up-to-date data on crop performance, such as using thermal imaging to determine water status. Our group was also impressed by the scale of farming, especially the size of the machinery and the demonstrations of the huge sprayers. Another highlight enjoyed this year was the "Soil Pit", which encouraged participants to consider the below-ground activities of plants by showing us the rooting systems of different crops in the soil and the importance of soil improvers.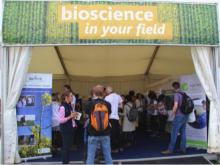 In addition to the exciting demonstrations, a large part of the day was given over to talking to the stand-holders about their work. As most in our group were researchers, the chance to discuss the needs and aims of the industry with the professionals was eye-opening. As one member of the group put it, "knowledge exchange rather than knowledge transfer is key". Making connections with other researchers was also valuable, and the Agri-tech East Young Innovator's Forum in the afternoon allowed us to engage with early-career scientists from the John Innes Centre, Rothamsted Research and IBERS. 
The enthusiasm of the researchers and industry professionals in their work was clear throughout the day. Our group came away with a better understanding of UK agriculture and the importance of collaboration to meet its needs. Everyone thoroughly enjoyed the trip, with many inspired to make use of their new contacts and appreciative of the need to work in partnership with the agricultural industry. As Dr Parveen Chhuneja from CINTRIN summarised, "Interaction, interaction and interaction".

The Bioscience Impact Team aims to give University of Cambridge researchers the knowledge, skills and contacts they need to fully realise the outcomes of their research.  Please see our events page or contact us for more information or to suggest other innovative ways to connect with the people that can take your work to the next stage.